Cavotec Finland Oy, a technical electricity transmission system company, considers their implementation of digital financial administration to have been a reasonable choice. The financial administration of the international company has become remarkably easier, as they can now approve invoices quickly and in real time, regardless of location, instead of processing paper invoices, for example.
Cavotec has used Heeros's purchase invoice processing system and the electronic document archive since 2013. "When we tendered service providers, it turned out that Heeros was a partner of our electronic invoice operator Liaison. Thus, starting to collaborate with Heeros was a natural and easy solution", states Merja Vänskä, Financial Manager at Cavotec Finland. Along the way, the product family has been complemented with travel invoices and a mobile application. In addition, the sales invoices are delivered to customers directly through Liaison and return to Heeros's electronic archive.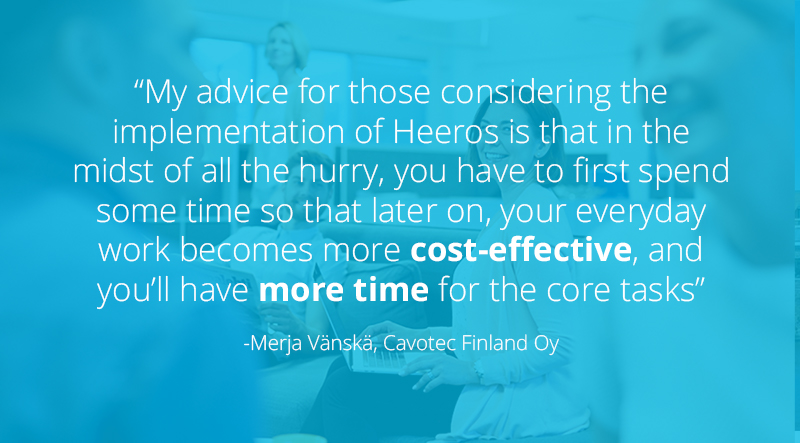 The new system was well received in all countries
The implementation in Finland was carried out smoothly, and the use of Heeros was extended in the following year, module by module – first to Norway and then to Germany. "Because the software is so user-friendly, we have independently trained new users without further need for Heeros's support. However, we have always received assistance when we have needed it!" Merja Vänskä explains.
English is used as the software's language throughout the group, as this makes using travel invoices easy for a user in New Zealand, for example. "The travel invoice processing has amazed people in Switzerland, Germany and the UK, for example, as they haven't had anything like it before. Since paper invoices are still widely used around the world, Heeros's Main User Service has been an excellent tool", Vänskä states.
The personnel in Germany, where slight resistance to the new system appeared at first, are now very pleased at how easy it is to process all the invoices of the three German offices using the same systems. The reporting functionality has also received particular praise from the Germans.
In Cavotec, Heeros is used daily by approximately 15 people, but, for example, the inspectors/approvers of travel invoices increase the number to over 50. In Finland, approximately 3,500 purchase invoices, 3,000 sales invoices and 100 travel invoices are processed annually.
Heeros's products have brought remarkable changes to working in the company
The offices, which are nowadays nearly paperless, are more effective. Electronic archiving is essential for Cavotec. In addition to documents, all orders, order confirmations etc. are sent to the archive. High-rising paper piles on desks and long lines of folders on shelves are now history. "The manual archiving of paper documents was always the task that was performed last, because it was so laborious and slow. After implementing Electronic archiving, we haven't had to work long nights or spend weekends mapping papers, as everything is stored electronically. I don't know how I could work without electronic archiving anymore. Electronic archiving is the best!" Vänskä enthuses.
In an international company, providing assistance over borders is an everyday routine. "The fact that many users have access to the same system is wonderful, because it makes providing support fast and easy. In order to be able to see what an issue was about, we used to scan invoices and send them to each other via email. Now we can do the same thing by looking at the same view."
Cavotec has recently implemented Heeros's electronic salary service and they have considered supporting it with Heeros's bank service as well. "Heeros's products are simple in a good way, which saves us time as we don't have to wonder how the software is used." The company has also made use of webinars, and newsletters have made it easier to follow Heeros's current issues and offers. "My advice for those considering the implementation of Heeros is that in the midst of all the hurry, you have to first spend some time so that later on, your everyday work becomes more cost-effective, and you'll have more time for the core tasks", Merja Vänskä advises.

Cavotec group
Cavotec wants to contribute to a future world that is cleaner, safer and more efficient by providing innovative connection solutions for ships, aircraft and mobile equipment today.We thrive by shaping future expectations in the areas we are active in. Our credibility comes from our application expertise, dedication to innovation and world class operations. Our success rests on the core values we live by; Integrity, Accountability, Performance and Team Work. Cavotec's personnel, located in some 30 countries around the world, represent a large number of cultures, and provide customers with local support, backed by the Group's global network of engineering expertise.