Career in Heeros

A relaxed and flexible way of working where professionalism meets passion.
Come work with us
We offer our employee the right mix of opportunities and challenges in a global and diverse working environment. We are having offices in Finland (Helsinki, Jyväskylä, Turku) and Netherlands.
We are a pioneer of modern financial management solutions. We targets to grow strongly internationally in the coming years. Thousands of organizations already use Heeros-products to streamline their day-to-day financial management processes.
Our values shows the

Heeros Way
They guide how we work with our customers and as a team, how we build our products and services, whom we hired and reward and how we reach our strategic targets. We don't make decision without having them in mind.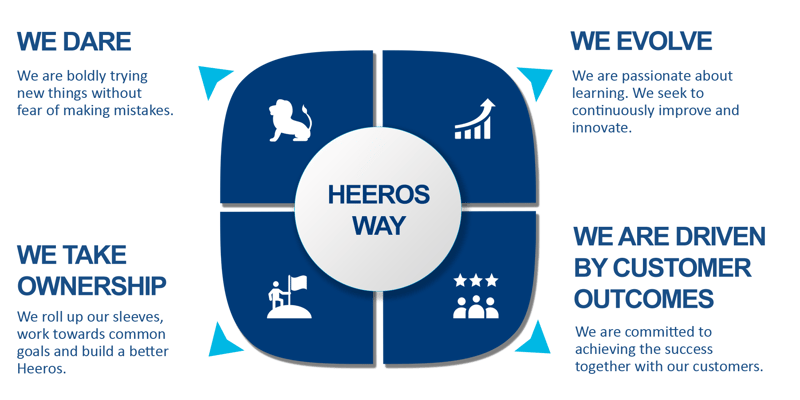 Attitude Is Everything


If you want be part of the next success story of a digital finance management, fill an open application and tell us more about yourself.
Director, People & Culture
karoliina.beltrami@heeros.com
"The best thing about Heeros as an employer is flexibility, easy to maintain balance with work and leisuret."
eNPS 2021
"Great colleagues + supervisor and the best customers to work with! And of course we have a great new CEO to lead us on the next level."
eNPS 2021
"Our solutions are used by thousands of companies and users in different countries but still everyone at Heeros can really leave their mark to what we do."
eNPS 2021
"The best thing about Heeros as an employer is able to work independently (freedom to realise business goals), good team work and spirit."
eNPS 2021
We are opening a new position that will support both our R&D department and our Customer Insights & operations (CIO) team.
We're now looking to further enforce our development teams with Full Stack Developers to build our solution offering.
We're constantly looking for talents and we'll gladly read and consider open applications.