All the invoices your company receives – including paper invoices and email attachments – can be received, captured and posted in just seconds. After this, the invoices are transferred into a user-friendly review process where they are moved to accounting, payment and, finally, your digital archive.
Heeros software is easy to integrate with ERPs and financial administration systems, for a smooth and dynamic purchase invoice process.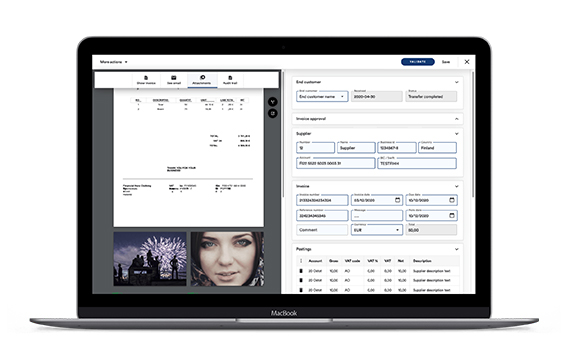 Key benefits of Heeros Purchase Invoices
Email invoices are included in the digital process


✔️
With Heeros Purchase Invoices, scannable paper invoices and invoices sent as PDF attachments are effortlessly integrated into your digital processes. You can process all invoices in one view regardless of the invoice format or supplier. This allows you to work more efficiently and save time.
Faster, more powerful purchase invoice process
✔️
The invoices received are automatically enriched with supplier and posting information. The data is quickly checked and the invoices are then transferred forward for a pre-configured review and approval cycle. A clear, streamlined process makes work more efficient.
Attaching documents and receipts to the invoice is easy


✔️
Documents and receipts related to the invoice can easily be uploaded as invoice attachments using Heeros eReceipt. In addition, anyone processing the invoices can add comments to help with reviews and approvals. All the necessary attachments and additional information can be found directly from the invoice. This leads to a much smoother workflow.
Better cash-flow control and improved transparency
✔️
Reports such as a list of open invoices, purchases day book and payment forecasts help with cash management. The invoice processing history is always saved, along with a complete audit trail. These features put you in control of cash flow and increase transparency.
Features of Heeros Purchase Invoices




Receiving invoices and automatic capture


E-invoices are sent directly from your provider to Heeros Purchase Invoices. You will also get an accounts payable email address to automatically capture paper invoices (which you scan in) and invoices received by email.

You will only need to check the information that has been imported and transfer the invoices to the applicable review cycle.

Heeros also has a service for scanning invoices.

Learn more about our scanning service.
Posting powered by AI

Solution comes with automated posting features. In addition, you can choose to utilise AI-based invoice capture provided by our partner, Snowfox.AI.

The AI analyses your invoice processing history and learns to make better suggestions based on that history, speeding your process up and reducing the margin for errors as well as costs.

Learn more about posting powered by AI.
Purchase invoices – workflow


This workflow is used for review and approval. Pre-configured rules will guide invoices in the accounts payable workflow through the right process and to the right people.
The person processing the invoice will automatically receive an email notification of incoming invoices. This ensures that invoices are processed, passed on and paid on time.
You can also review and approve invoices easily with our mobile app.


Transferring invoices to an accounting system and ledger


Once the review is done, it only takes one click of a button to transfer the invoices to an accounting system or purchase ledger, and store them in your digital archive.
If you have a third-party accounting system or ledger you can easily transfer the data to it thanks to our built-in interfaces and easy integration.
You can store all your documents safely in Heeros Archive. With a wide range of search functions, invoices can be retrieved easily at a later date and returned to the purchase invoices workflow for further processing, such as adding invoice attachments.
Purchase ledger


Payment information sent to your bank is created from the purchase ledger. If necessary, you can also specify an approval step for the creation of a payment before sending the information to the bank. You can also pay foreign currency invoices from the purchase ledger.

Payments are automatically matched to bank account statements. Open and paid invoices can be monitored with ease and clarity, and you also have access to reports that can enhance cash management.
Travel invoices and ledger


The Heeros mobile app makes it easy to submit a travel expenses claim – even while you are travelling – or you can use the browser-based version.

The expenses claim will be transferred to the review workflow and circulated via the predetermined steps and approvers. Then the bank payment information can be created in the travel expenses ledger or transferred to your payroll software.

Payments are automatically matched with bank statements and entered in the income register.


"Heeros Purchase Invoice solution is easy to use and it enable us to handle the invoices quickly. There are no difficult configurations or settings to be done, and we were already able to use it after a Short 30-minute demo."
Wiemer Haagsma, Van't Blik Groep
"Having a single window to view all our customers' invoices saves us a great deal of time"
Tarja Heilä, Talopak Oy
Super-fast purchase invoice process – cut minutes to seconds


See how easy it is to process invoices with Heeros Purchase Invoices. Less manual work and a lot of time saved – Watch the demo!
Let's enhance your purchase invoice process!


Heeros Purchase Invoices solution allows you to incorporate digital invoices into an automated purchase invoice process quickly and cost-effectively.