In the organizational change during this spring, we brought together Heeros product experts in the same team. Previously they'd been part of our product development organization. The key task of the product management team is to guide Heeros' product development and determine the future direction of our solutions. The cornerstones of our development work are listening to our customers' wishes, in addition to which changing legislation, evolving technology and the effects of many megatrends on the operating environment provide the basis for developing our solutions. But what exactly is customer-oriented product management all about?
Customer-oriented product management supports business needs
One of our tasks is to ensure that our customers receive constantly evolving solutions and can take advantage of future features that add value to their work. Customer-oriented product management is also about understanding our customers business and the needs of the industry and considering the perspective of our customers' work processes. This does not mean fulfilling every customer wish, but the ability to listen to, collect and analyze different information, compiling an overall picture and the best solution. I believe that by putting oneself empathetically in the customer's shoes, one can achieve an understanding of what things make sense to develop to maximize customer benefit, now and in the future.

The development is based on an understanding of our customer's needs
The goal of our organizational change is to accelerate the change in organizational, cultural and operating models to become more customer oriented. In Heeros product management, we want to increase our efforts to continuously gain a better understanding of our customers and their operating environments. We will utilize the data and the insights gained from it in our work, as well as build new operating models that better serve the customer between the various functions of Heeros. This means more cooperation with our customers, more visibility for our customers in what we do, and at the same time the opportunity to participate even more in product development planning, for example in product development steering groups.
Working together to achieve a lot of positive things
As I write this, I have been Heeros product management team leader and a member of the management team for about a month. I'm glad I've already had the opportunity to meet many of our customers as well as professional colleagues. I'm really excited, because I see around me really a lot of know-how and potential. I am sure that we will already this year achieve a lot of substantial and positive change, which will ultimately be realized as tangible value and good vibes to all of us. Our new Heeros Purchase Invoices solution is a good example of what can be achieved with customer-oriented product development. This is reflected in the positive experiences of our first pilot customers of the new, faster purchase invoice process.
Let's build something together that we can all be proud of!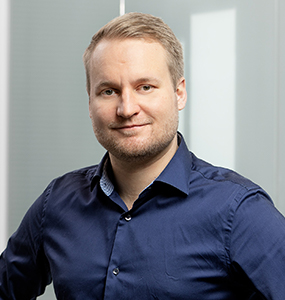 Henri Liuska
Director, Products