As the industry and technology develop, so do our financial administration solutions.
Last year, Heeros saw many changes. We implemented a new strategy and our operating models are now more customer-oriented and streamlined. This has enhanced our product management as well as our product development team's agility to make plans a reality throughout 2021.
In order to improve efficiency for our customers in what they do, we launched a number of updates and new features early this year, such as: the new REST interface for purchase invoices; the VAT calculations interface for transferring reporting data directly to the tax authority; the wage calculation user interface update; and a new customer account feature that guides the user on how to set up the account. But what else is in store this year for financial administration solutions? Which themes will guide product development and how will we get there? Here's a summary of what Heeros are working on.
Understanding our customers is the basis of all planning
To understand our customers' needs for financial administration solutions, we went through mountains of customer feedback that was collected throughout the year, as well as customer satisfaction survey results and development proposals. However, listening to customer requests and ideas is only the first step in the creation of a product development road map. It's crucial to dig even deeper, to understand why customers want certain things from the product. To get this insight we needed profound knowledge of your business routines and processes, so we held discussions with some of our customers to find out more about how they operate. Thank you to all the participants for your valuable feedback!
We believe that the best solutions come from understanding our customers' business activities, operating practices and, above all, their problems and needs. When we combine that insight with our expertise in the operating environment, technology and market trends, this gives us a solid foundation to plan product development in the best way for creating top-notch financial administration solutions.
Prioritisation is key
We doubt any organisation in the world that serves a variety of customers can implement all its customers' wishes, ideas and development proposals at once. Rarely even a fraction of them. If such large-scale implementation were possible, we'd end up with extremely cumbersome solutions potentially too complex and slow to use. In product development it's crucial to give priority to features that create the greatest value for the greatest number of people. In addition to the development themes set out in our strategy, this principle guides which suggestions we start working on first and in which order.
Three main themes drive our product development
Heeros has three main themes for financial administration solutions product development: user experience, leadership in digital solutions, and seamless interfaces. These will be applied throughout the year in all our product development initiatives. In addition to this large-scale development, we have a renewed process that allows us to easily execute smaller customer ideas and suggestions.
Our brand-new mobile solution comes with a first-rate user experience
User experience is the most important of our main themes, as this is of key importance in financial administration solutions. After a 20-year journey in the industry, it is time to capitalise on what we've learnt and update our product portfolio. Now is the opportunity to implement small and large tweaks in both the appearance and usability of our products, and at the same time become an industry leader in user experience.
On this note, Heeros are pleased to announce we are to develop a completely new mobile solution for financial administration end users and entrepreneurs. Our goal is to provide the best mobile experience in the industry and, as with all our development, deliver easy-to-use, automated and efficient solutions.
Leader in financial administration solutions using automation
Another important development theme, leadership in digital solutions, takes the Heeros focus back to our original roots and draws strength from it. We continue to develop our automated purchase invoice solutions and will make more use of, for example, machine learning and partners that add value to our customers. But perhaps the most important financial administration solutions project is the development of a new sales invoice solution starting in the first half of the year, in response to customer requests for this feature.
Heeros is easy to use and integrates smoothly with other products
The development of seamless interfaces alongside seamless integration is a core tenet of our financial administration solutions' product development process. We will further improve the interoperability of different Heeros products as well as their easy integration into other business systems. These updates will ensure our customers' business-critical systems run even more smoothly and that up-to-date information is readily available.
By working together, we will continue to build an easy and effortless future for your financial administration solutions!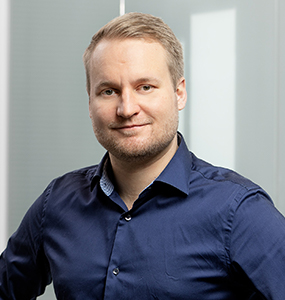 Henri Liuska
Director of Products
Heeros Oyj
We would love to hear more of your ideas and thoughts on the subject. If you have any best practices, experiences or tips about our software that you'd like to share, please tell us about them!